What gaps are there for Human Resources (HR) to become a strategic business partner, a promoter of the commitment, productivity and satisfaction of employees and with a high level of internal influence?
Now well into the 21st century, we continue to witness debates in numerous forums as to the reasons why HR has not managed to achieve a relevant position in many organizations, despite the fact some positive developments have been made in recent decades.
Here are some of the elements on which such a perception is based: a lack of business vision, limited budgets, a need to improve the training of professionals, insufficient support from management and middle-management in HR areas and a risk of massive outsourcing due to its not being considered a key function. In addition to this, significant restructuring during the economic crisis has served to enforce the perception of a department with a bad reputation and scarce acknowledgement both internally (within the company) and externally (in terms of society).
Human Resources: a key, complex and sometimes unrewarding area
People management is a particularly complicated and highly sensitive matter, where results are usually achieved in the medium term and are not always measurable with the typical quantitative ratios generally used in companies as "not everything that counts is easy to count". Furthermore, there are multiple factors affecting the reputation of HR such as economic cycles, the culture of companies or the quality level of their directors.
Here are a couple of examples to illustrate this:
1) Although employees naturally seek stability and salary growth policies, in reality, they will have to adapt positively to uncertainty and the need for reasonable efficiency in expenditure, which, in the 21st century, are consubstantial elements. The VUCA (Volatility, Uncertainty, Complexity and Ambiguity) environment has come to stay, as explained by Juan Carlos Cubeiro http://ow.ly/NkeZk and José Antonio Marina http://ow.ly/Nkf1p in their articles and depends on new forms of training and mindsets to be successful in a globalized and highly competitive world.
We must assume that such tension is natural and may lead to tension and that we will only maintain a good work compromise if we manage it with honesty and empathy and encouraging involvement and the generation of ideas at all levels, and with a win-win vision: explaining the need for sacrifice in times of crisis, but also introducing reasonable improvements in working conditions when the economic situation evolve positively. And we must also strive for this to be successfully communicated by management teams and not only by HR departments.
2) HR is, at times, a thankless area and especially so in companies with low-quality management: HR is involved in difficult decisions (dismissals, salary freezing, the restrictive management of compensation…) which it attempts to carry out with responsibility and empathy, although it often entails much personal wear and tear and loss of internal reputation. Conversely, however, when there is good news (recruitment, promotions, wage increases), it is difficult to capitalize on and to get employees to appreciate the work done by HR in achieving such goals, as some directors claim them such achievements for themselves and with little corporate vision.
Are there reasons to consider HR as an area that must improve its added value?
I believe that HR has made significant advances in the past, but must evolve to be able to confront future challenges in a complex and highly competitive context and that there are some reason why we should be self-critical.
In 2005, Keith H. Hammonds, the editor of Fast Company, published a controversial article: Why We Hate HR, in which he provided 4 reasons why HR must improve its contribution: http://ow.ly/Mq6AM.
– Professionals lacking key skills
– Focus on efficiency vs. added value for business
– Insufficient guidance to the internal customer
– Scarce knowledge and proximity to employees
He also linked this situation to a loss in the function's strategic importance and the growing trend of partial outsourcing of HR areas such as the training, development, selection and administration of personnel. According to a recent study by Hewitt, up to 94% of large companies in the USA take such decisions into account.
As a complement to this vision, Brian Feldman provided 7 key points that underpin the need for improvement in his article "Why does the HR function have such a bad reputation within corporations?, (http://ow.ly/Mq5Vl)
– HR is occasionally perceived as being over-preoccupied with minor issues
– People management processes are often viewed as having little added value and being unnecessarily complex
– Lack of professional skills to solve complex people management issues
– There are discrepancies between what HR does and the expectations of employees as to the key themes of people management
– Lack of contact between HR professionals and staff
– HR departments do not attract the best and brightest employees
Contrary to this negative view, other authors such as David Ulrich, a leading international HR guru, pose a more positive evolution of HR as a strategic partner in the report "The State of the HR Profession (2012)" http://ow.ly/Nm4t3, although it is indeed made clear that there are issues still to be improved.
In conclusion, it seems clear that we need to continue to evolve towards a new focus which would integrate areas for improvement in our exciting though complex task and consolidate the achievements made to date. In this way, we will increase our contribution to business and to people and enhance our influence and reputation. On the basis of my experience, here are 10 ideas which could favour such transformation.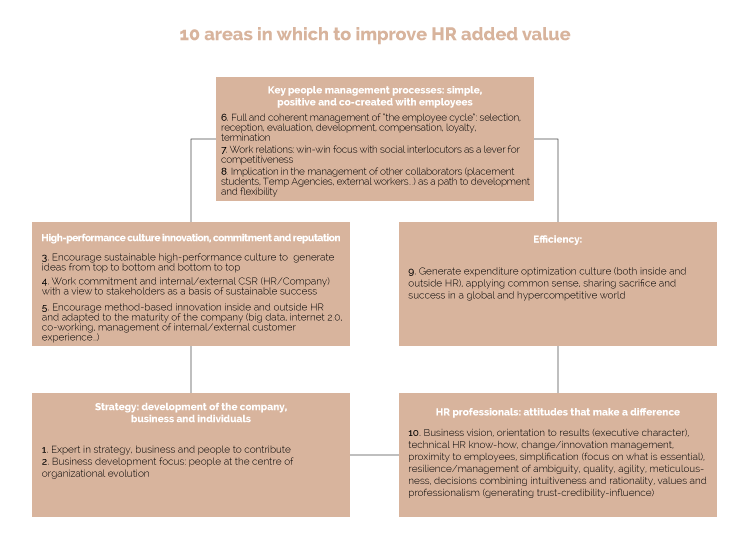 Source: David Reyero
Human resources, a key area if we focus on its essence: to bring strategic added value to business and to bring out each individual's unique potential
In some organizations there are still people who advocate a "low profile" HR Department. I personally believe that a bad reputation or low HR strategic weight does not, in the long run, favour companies or their employees in general. This has been understood by corporations that have sustained success, regardless of their culture, size or sector.
The dream of most HR professionals is more valid than ever: to contribute strategically to business results and to the loyalty, development and happiness of our employees. A far from simple aspiration which we must never renounce and which demands resilience, professionalism and continuous reinvention, and requires us to refrain from endogamic practices and to be open to all kinds of external feedback which value our strengths and contribute ideas for improvement.
We have a positive ambition to be a key area. In order to achieve this, however, we have to do our job better each day, stepping out of our comfort zones and get closer to the business and to our employees.
And although we often manage intangible elements, we must be able to value our work and clearly explain our contribution by applying marketing techniques both internally and externally. More proactive communication is a key factor in this digital world where reputation is no longer so influenced by specific "official and directed" messages but rather by what multiple stakeholders continually perceive and communicate on a multi-channel basis (internet, mobile, informal face-to-face conversations…).
Let us then, with courage and optimism, make the most of the opportunities provided by a recovering socio-economic environment in which it is people who increasingly make a difference. And we can achieve this, as HR professionals are specialists in the management of what is most valuable and powerful: the devoted commitment, diversity and talent of each employee.
David Reyero Trapiello – Senior HR Business Partner – Sanofi Iberia
e-mail: David.reyero@sanofi.com  / Twitter: @davidreyero73 / Linkedin: es.linkedin.com/in/reyerodavid